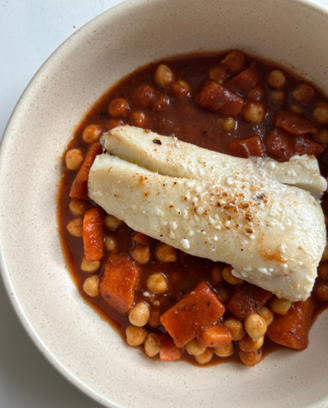 Pollack Tagine
This cod alternative, found across the UK, is paired perfectly with a sweet potato and chickpea stew. Estimated cost per portion £3.25
Ingredients
2 pollack fillets
1 can chickpeas
2 cups passata
1 tbls minced garlic
1 small onions, diced
1 handful frozen, cooked sweet potato
1 tbls harissa paste
1 tsp cumin powder
1 lemon
1 tbls olive oil
Salt and pepper
Method
Preheat the oven to 180°C.
Take a shallow ovenproof pan with a lid and heat it on low heat on the hob.
Sauté the onion & garlic in the olive oil until soft.
Add 1/2 the cumin powder and harissa and cook for 2/3 minutes stirring frequently.
Add in the sweet potato, chickpeas & passata then cover and simmer for 10 minutes.
Season the fish with salt, pepper, lemon juice and the remaining cumin.
Remove the lid, place the fish on top, cover and transfer to the oven for 12 minutes, or until the fish is flaky and cooked through.