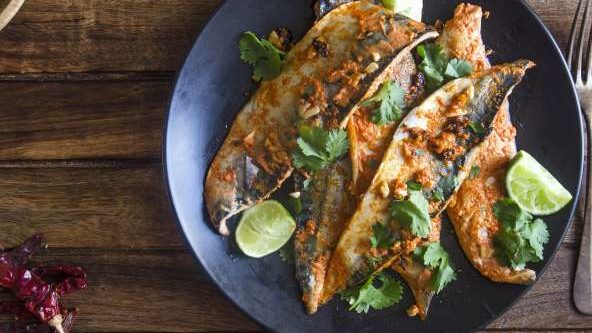 Mackerel, roast sweet potato, chilli and ginger
Want to give the Seagan diet a go? This dish is bursting with omega-3, thanks to the mackerel which is packed with these essential fats.
Ingredients
4 sweet potatoes, peeled and thickly sliced
4 x 100g mackerel fillets, pin-boned
For the marinade
1 red chilli, deseeded and finely chopped
1 tbsp ketjap manis (sweet soy sauce)
1 tsp freshly grated root ginger
Grated zest and juice 1 lime
2 tbsp olive oil
Salt and freshly ground black pepper
For the salad
1 cucumber, deseeded and evenly diced
Splash white wine vinegar
1 tsp soft brown sugar
Handful bitter salad leaves such as rocket, raddichio or chicory
Few mint and coriander leaves
2 tbsp sushi ginger
Method
Score the flat surface of the sweet potato slices and arrange them in a roasting tin in a single layer.
Slash the mackerel fillets 2–3 times on each side then arrange on a large sheet of aluminium foil in a separate roasting tin
Mix together the marinade ingredients and brush over the sweet potato and mackerel. Leave the sweet potato slices to marinate for 5-10 minutes.
Preheat the oven to 190°C/fan 170°C/gas mark 5. Roast the sweet potatoes for 40 minutes in the marinade. Add the tray of mackerel for the last 8 minutes of the cooking time.
Make the salad: toss the cucumber together with the vinegar, sugar, salad leaves and herbs. Divide between 4 plates, top with the sweet potato slices and mackerel fillets, sprinkle over the sushi ginger and serve straight away.