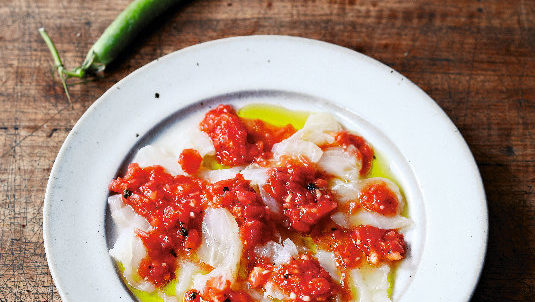 Salt cod, tomato and olive oil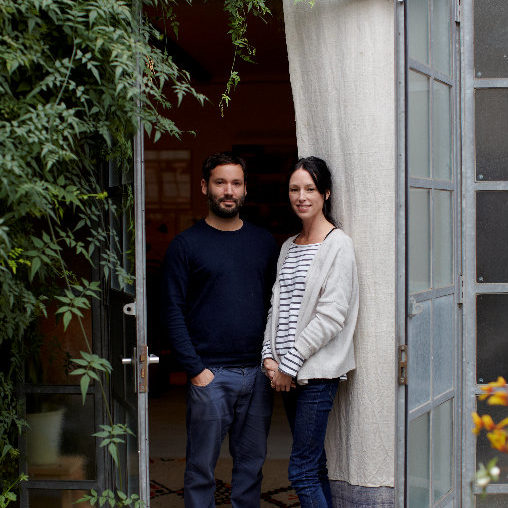 By Clare Lattin and Tom Hill
We had this during an olive harvest trip with one of our suppliers, George Bennell. On the way he took us to a restaurant in IIeda called Tofal, two hours outside of Barcelona. It's not much to look at but the food was so simple and very good. The idea is that the owner brings you whatever he wants. There are no prices and no menu. At the end he tells you what he wants you to pay. I've been told the bill all depends on what sort of week he is having. A good week: you get a cheap bill; not so good: well, those prawns will cost you.
Ingredients
400g salt cod
500g large ripe tomatoes
1 small garlic clove, finely chopped
1 tsp thyme leaves
1 tbsp red wine vinegar
75ml extra-virgin olive oil
Salt
400g salt cod
Method
To prepare the dish, first skin the tomatoes. Bring a large pan of water to the boil – it should be large enough to hold the tomatoes. Using a sharp knife, score a little cross at the base of the tomatoes and cut out the eye of the tomato at the other end. Have a large bowl of iced water ready and once your water is boiling submerge the tomatoes for 15 seconds, them immediately plunge them into the iced water. You'll be able to peel off their skins almost immediately. Halve the tomatoes and remove the cores.
Tip the tomatoes into a food processor and pulse for 2 minutes, until the tomato pieces are still fairly chunky; don't over-blend otherwise you end up with a sauce. Add the garlic to the tomatoes with the thyme and vinegar and give it one last pulse. Season with a pinch of salt, but not too much as you're pairing this with the salt cod.
To serve, use a sharp knife to cut into the cod across the surface area, making wafer-thin slices around 6-7cm long. It's important to get your slices as thin as you can so that the flavour remains delicate. Think of how you might buy wafer-thin smoked salmon. Gently lay each of your slices on to four plates but not in a straight line or flat — allow the slices to have a little wave to them. Spoon over the tomato pulp, covering about a third of the cod, then pour a good glug of olive oil over each plate.