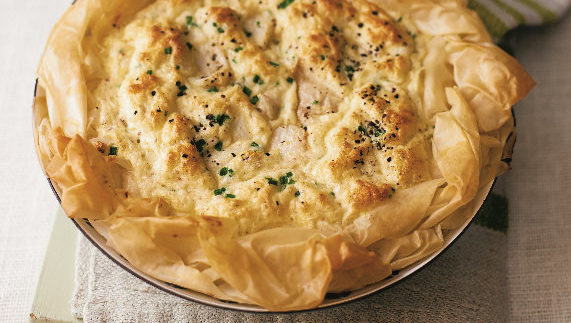 Smoked haddock frying-pan pie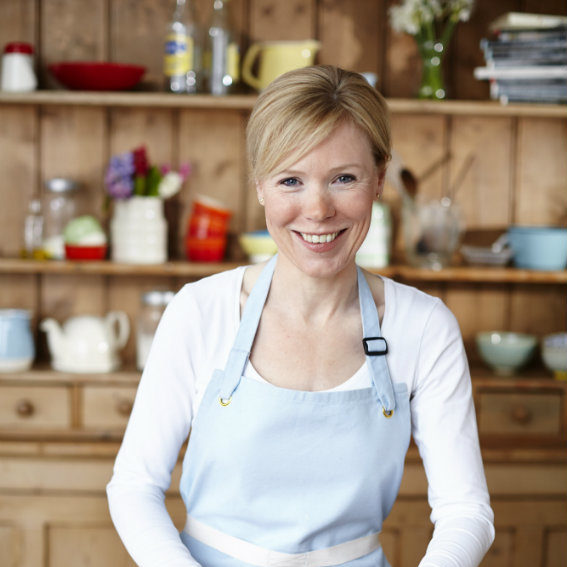 By Camilla Stephens, founder of Higgidy
Based at Shoreham-by-Sea, it's little surprise that West Sussex company, Higgidy, has taken inspiration from their coastal location to develop some delicious fish pies. This recipe, taken from the company cookbook, is made in a frying pan and has a dramatic, soufflé-like appearance. Shop-bought filo pastry is simple to use and produces lots of crispy layers, which tastes wonderful alongside the puffy, warm filling.
Ingredients
1 x 250g smoked haddock fillet, pin-boned
200ml milk
100ml double cream
40g butter, plus melted butter for brushing
1½ tbsp plain flour
1 tbsp grainy mustard
20g Parmesan cheese, finely grated
4 medium eggs, separated
1 small bunch of fresh chives, snipped
4 sheets of filo pastry
Salt and freshly ground black pepper
Equipment: 1 ovenproof lidded frying pan, approx. 18cm across base, 24cm across top
Method
Place the haddock in your ovenproof frying pan and pour over the milk and cream. Bring just to the boil, then cover with the lid, turn off the heat and leave for 10 minutes or until just cooked through. Remove the fish with a slotted spoon, peel off the skin and thickly flake the flesh. Strain the milk and cream, and set aside. Clean the pan and brush with melted butter.
Preheat the oven to 200°C/fan 180°C/gas mark 6 and put a baking sheet in to heat up. Heat the 40g of butter in another pan over a medium heat. Once melted, sprinkle in the flour and stir for 1 minute. Gradually pour in 200ml of the reserved milk/cream, stirring well after each addition. Bubble gently for a minute or so, to thicken. Remove and spoon into a large bowl. Stir in the mustard, Parmesan and some salt and pepper.
Mix the egg yolks, haddock and chives into the white sauce. In a separate bowl, whisk the egg whites until they form peaks. Add a spoonful to the haddock mixture and stir in, then very gently mix in the remaining whites.
Brush each sheet of filo all over with melted butter and overlap them to line the ovenproof frying pan. Scrunch the filo around the edge and brush with butter. Spoon the filling into the centre of the filo case.
Cook on the hob over a medium-low heat for 5 minutes, then transfer to the oven, on the hot baking sheet, and bake for 12–15 minutes or until the filling has risen and set, and the pastry is golden and crisp. Sprinkle with black pepper, then transfer to a board and cut into wedges.