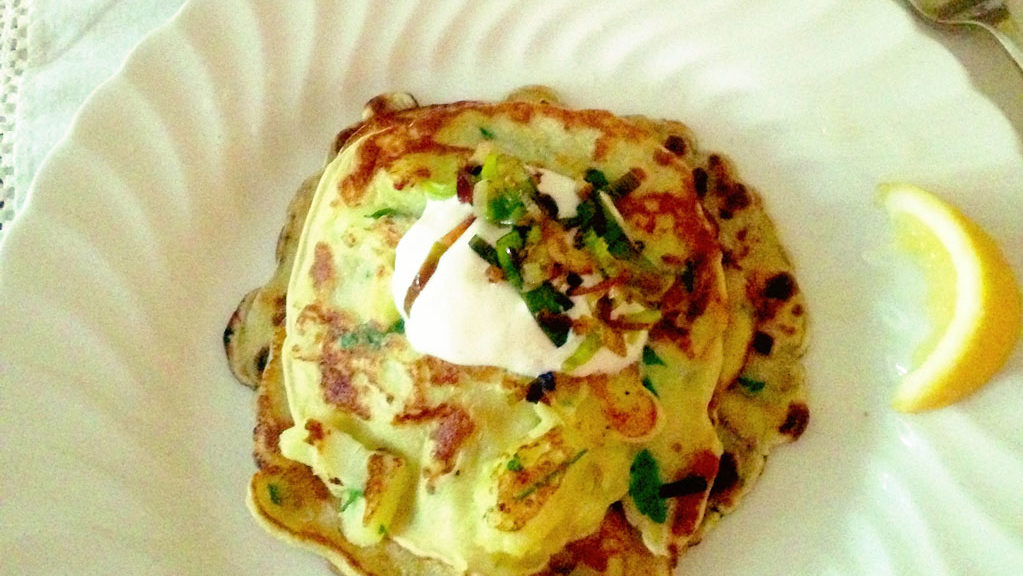 Smoked haddock pancakes, lemon crème fraîche and leeks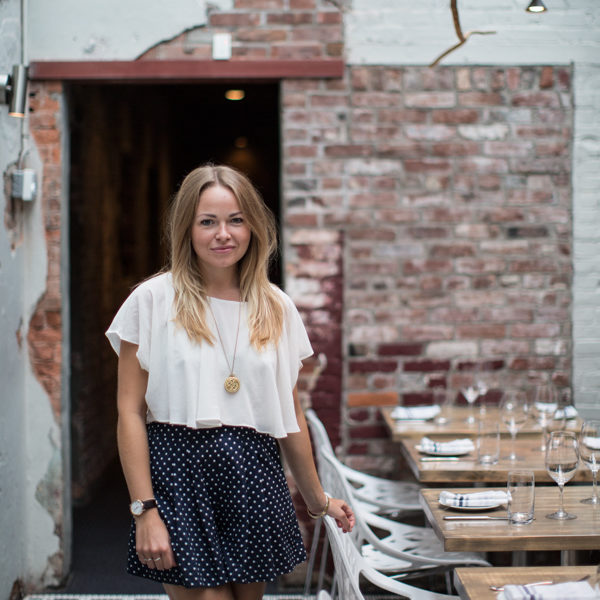 By Rosie Birkett
We all know that fish and batter have a long and happy relationship, and this recipe means that you can still enjoy fish for supper this Pancake Day. Like the famous fish omelette Arnold Bennett, which was created at the Savoy hotel for, and named after, the novelist Arnold Bennett (who insisted on eating it every day), this savoury pancake is a vehicle for smoked haddock and cream. You use the milk that you've poached the fish in for the pancake batter, and top with a big dollop of lemony creme fraiche and sweet, crispy leeks.
Ingredients
To poach the fish
200g smoked haddock fillet, bones removed
200ml milk
Bay leaf
Grind of freshly milled black pepper
For the pancakes
100g white flour
Half tsp baking powder
Pinch of salt and freshly milled black pepper
130ml poaching milk
Tbsp double cream
One egg, beaten
Tbsp parsley, finely chopped
Lemon wedges, to serve
For the lemony creme fraiche
Three tbsp creme fraiche
Zest and juice of half a Lemon
Pinch cayenne
For the crispy leeks
Half the white part of a leek, washed and finely sliced
Tablespoon butter
Method
Preheat your oven to 130°C. Gently heat your milk, along with the bay leaf in a saucepan until it's simmering. Poach your haddock in the simmering milk for five minutes, until it's flaky and juicy. Lift the fish out of the milk, discard bay leaf and measure out 130ml of the poaching milk. Allow both the fish and measured milk to cool.
In a non-stick pan, melt the butter and fry your leek slices gently for five minutes, until they soften and start to go golden in parts. Keep an eye on them – you want them just crisp, but not burned. Cover and remove from the heat.
Mix the lemon juice, zest and creme fraiche together and stir in a pinch of cayenne pepper.
Put the flour, salt and pepper and baking powder in a bowl. Once it's totally cooled, mix the poaching milk, egg and parsley together. Add this mix to the dry ingredients and whisk until you have a sloppy batter. Flake in the smoked haddock and coat in the batter. Leave to rest for five minutes.
Melt some butter or heat some oil in a small non stick pan over a high heat, and brush it around with a silicone brush. Add half ladlefuls of the pancake mixture, until you have enough for a small pancake, swirl or push with a wooden spoon to evenly distribute the haddock and batter, and cook for a two-to-three minutes, until it comes away from the pan when you shake it.
Flip the pancake over and cook for a couple more minutes, until the underside is golden. Keep on a heatproof plate in a warm oven while you make the rest in batches.

 Divide the pancakes between two plates and serve with the creme fraiche and crispy leeks piled on top.
Happy Pancake Day!