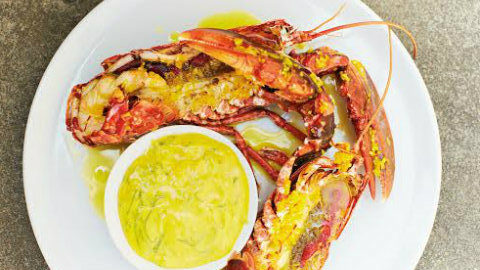 Smoked lobster with saffron and basil mayonnaise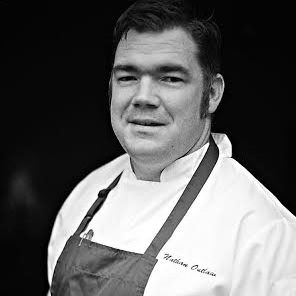 By Nathan Outlaw
Lobsters need to be bought live and cooked and eaten immediately; they never taste the same when they are reheated. There are some pretty bold flavours in this dish, but don't worry, meaty lobster can handle it. Just make sure you get everything ready before you dispatch your lobsters.
Ingredients
2 live lobsters, about 800g each
Cornish sea salt and freshly ground black pepper
Oak chips for smoking
Saffron and basil mayonnaise
2 egg yolks
Juice of ½ lemon
½ tsp saffron strands
½ tsp cayenne pepper
150ml light rapeseed oil
3 spring onions, trimmed and finely sliced
6 basil leaves, finely sliced
Saffron oil
2 banana shallots, peeled and finely chopped
2 garlic cloves, peeled and finely chopped
½ tsp saffron strands
200ml cold-pressed rapeseed oil
Dressing
500ml lobster stock
Juice of 1 lemon
Method
Place the live lobsters in the freezer for an hour before cooking to put them to sleep. Put one lobster on a board and firmly insert the tip of a strong, sharp cook's knife into the cross on the head to kill it instantly. Repeat with the other lobster.
Now carefully cut the lobsters in half lengthways from head to tail. Remove the stomach sac and the dark intestinal tract that runs along the length of the tail. Put the 4 lobster halves on a tray and set aside.
For the mayonnaise, put the egg yolks, lemon juice, saffron and cayenne in a bowl and whisk to combine. Slowly whisk in the oil, drop by drop to begin with, then in a steady stream until it is all incorporated and the mayonnaise is thick. Season with salt and pepper to taste. Cover and refrigerate until needed.
For the saffron oil, put the chopped shallots and garlic, saffron and rapeseed oil in a small pan and heat to about 80°C, then remove from the heat and set aside.
For the dressing, boil the lobster stock to reduce down to 150ml. Add this to the saffron oil with the lemon juice; set aside.
Set up your smoker with the oak chips for hot smoking and heat up to get it smoking. Place the lobster halves on the rack, trickle a couple of spoonfuls of the saffron dressing over each half and season with salt and pepper. Place in the hot smoker for 10 minutes.
To finish the mayonnaise, stir through the spring onions and basil. Check the seasoning.
Place a lobster half on each warm plate, spoon over some of the dressing and serve at once, with the saffron mayonnaise on the side.