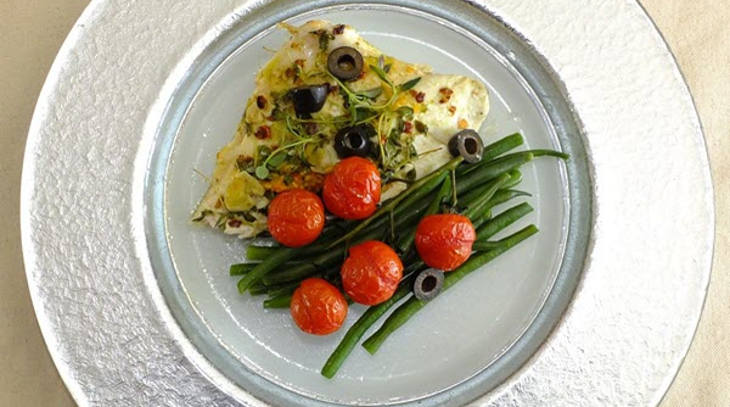 Sun-drenched bream
By Catrin Thomas-Price
This large group of fish from the Sparidae or Bramidae families are generally caught in the Mediterranean and off the west coast of Africa. It is high in Protein, Niacin, Vitamin B6, Vitamin B12 and Phosphorus. This dish is full of fresh Mediterranean flavours. Add more, if you like - green olives, courgettes, a few capers, sauteed spinach and small waxy potatoes sauted in butter are good further accompaniments.
Ingredients
2 bream fillets
10 cherry tomatoes, ideally on the vine
10 black olives
Green beans for two people
1 tbsp extra-virgin olive oil or (even better) the oil from a jar of sun-dried tomatoes
2 cloves of garlic, finely sliced
Large handful fresh thyme
1 tsp basil pesto
Zest and juice of half an unwaxed lemon
Chilli flakes
Method
Preparation
Rub the tomatoes in plain olive oil and a little salt, and roast at 150C for 20 minutes or until the skins begin to wrinkle and split. Mix the oil, garlic, thyme, pesto, zest, juice and chilli in a shallow bowl. Sop the fillets in the mixture and leave them to marinate while the tomatoes are roasting. Wash and top and tail the green beans. Cut the black olives in half.
Cooking
Take the tomatoes out of the oven, cover them to keep warm and turn the oven up to 200C. Place the fish on baking paper in a roasting tin, pour the marinade on top, and bake for 20 minutes. While the fish bakes, boil the green beans in salted water. When the fish is cooked, serve immediately. Remove the cooked thyme and plate the fillets alongside the beans, tomatoes and olives. Scatter with a few more fresh chilli flakes for colour, if needed, and a few fresh sprigs of thyme.