January
Healthy living, root vegetables galore, seafood in abundance, plus a Caribbean spiced tilapia for a splash of home-cooked sunshine. Tom Hunt on what we can enjoy this month.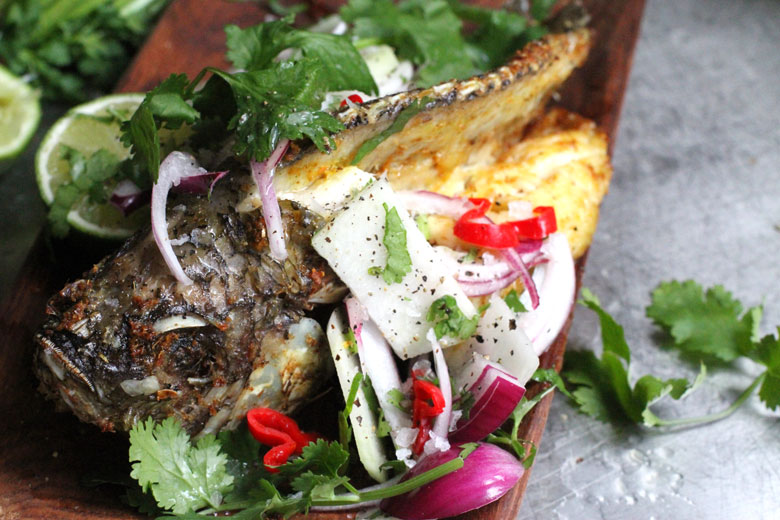 After a seriously hedonistic month it's time to celebrate what's healthy in life. I actually enjoy being healthy, even if it does mean staying out of the pub, avoiding doughnuts and eating more vegetables. A healthy diet is often portrayed negatively, seen as abstinence from what's enjoyable. But, of course, it has its delicious side: eating raw vibrant salads full of wonderful exotic flavours, making the most delicious smoothies and eating plenty of fresh fish.
Seafood is rich in protein and full of iron and vitamins. Oily fish such as mackerel, sardines and herring contain omega-3 fatty acids that are thought to lower blood pressure, strengthen the immune system and help keep the heart healthy. Oily fish is best grilled over charcoal in my opinion. So, on the next clear day, get the barbecue out and cook up some mackerel – out of this world served with chermoula, a Moroccan spiced sauce made with roasted peppers, cumin, paprika, chilli, garlic and fresh coriander, bound together with olive oil and lemon juice.
Now is the time to feast on root vegetables, brassicas and alliums. And what a variety we have available: golden beetroot, celeriac, black radish, cavolo nero, purple sprouting broccoli, swede and January King cabbage, to name just a few of the locally grown wonders currently adorning our shelves.
Dark leafy greens grow so well in our winter climate. Picked fresh, they are amazingly crisp and full of flavour. Kale, chard and cavolo nero grow well in pots and can be picked a leaf at a time, meaning you don't have to harvest the whole lot at once. Try wilting winter greens in butter and garlic with clams and winkles. The winkles will be cooked by the time the clams open. Serve on sourdough toast for an incredibly nourishing and simple supper.
Other fish that are prolific and a good sustainable option this month include white fish such as pouting, cod and pollack; cephalopods such as squid and cuttlefish; and the flat fish: dab, Dover sole, turbot and megrim sole.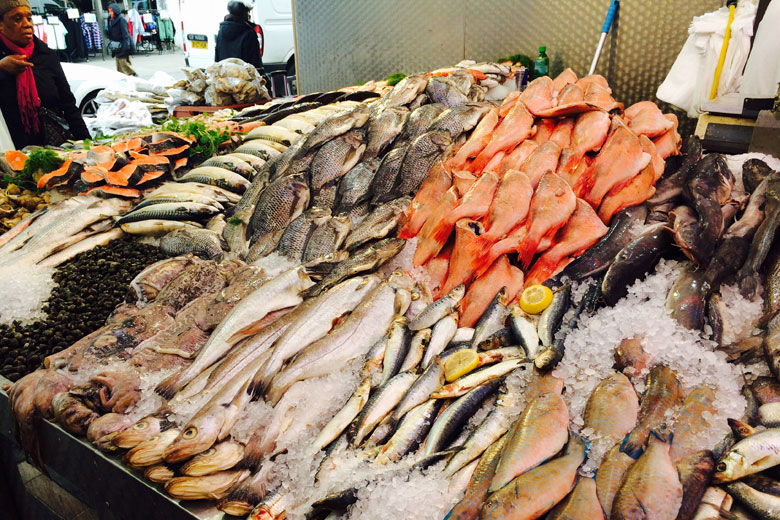 That said, at this time of year the weather can be unpredictable – and so can the fishermen's catch. To make sure that the menu is consistent at my restaurant Poco, I rely on farmed fish for the regular dishes on my menu. Some of the UK fish farms are considered highly sustainable and produce brilliant quality fish. I strongly recommend you seek out some smoked farmed Gigha halibut. I was lucky enough to try some at the BBC Food and Farming Awards where Gigha Halibut won the award for best producer. It has a melt-in-the-mouth texture and subtle smokiness which complements the fresh flavours of the fish.
Other good choices from UK fish farms include salmon (I choose organic), turbot, trout (also organic) and, my pick of the month, tilapia. In recent years, farmed tilapia has been heralded as the sustainable fish to eat. However it was farmed mainly in Africa and Asia, and because I choose to buy local produce in order to reduce my environmental impact, I was unable to use it. But now there's a British tilapia farm near Grimsby, where the fish are reared without hormones or antibiotics in closed water systems that don't have any of the issues that surround open-water pens in a lake or at sea.
Tilapia has a firm texture and simple flavour. I find it a bit bland as a stand-alone ingredient but it's a great carrier for spice. In Africa, where it's known as ngege, tilapia is often prepared with a spicy marinade and cooked over charcoal.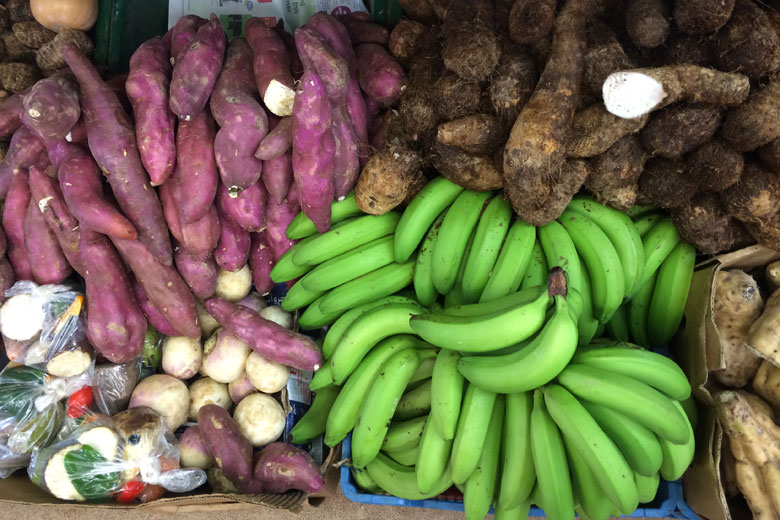 Caribbean spiced tilapia with coriander and lime
This is a super-tasty way to serve tilapia: deep-frying gives it a marvellous texture, the spices add an explosive flavour, and the lime cuts through both, bringing the dish to zinging life. Make sure the oil is nice and hot when you put the fish in, so that it doesn't absorb the oil. Serve with fresh chillies, chopped seasonal salad and plantain if you wish. Or, if you'd prefer to keep with the healthy January spirit, you can grill the fish instead.
Ingredients
Makes 4 portions
About 1 to 1.5l groundnut or vegetable oil
4 500g or 2 1kg tilapia, scaled and gutted
2 limes, cut in half
8 sprigs coriander
Fish spice rub 
2 tsp black pepper corns
2 tsp cumin seeds
2 tsp coriander seeds
2 tsp turmeric
3 tsp sea salt
3 Scotch bonnet chillies, deseeded and roughly chopped
2cm piece ginger, roughly chopped
6 cloves garlic, peeled, roughly chopped
Method
Grind all of the dry spices in a pestle and mortar to make a rough powder. Then add the roughly chopped chilli, ginger and garlic and smash into a smooth paste.
On each side of the fish, make three scores across the thick side of the fillet from spine to belly, cutting down to the bone. This will help the fish cook quickly and evenly. Rub the spice mix into the fish, making sure it goes into the belly cavity and scores. Leave to marinate for up to 1 day.
Heat the oil in a deep saucepan, large enough to fit a whole fish at a time. For safety the oil should not be more than a third of the way up the side of the pan. Drop a little of the spice mix into the oil. When it bubbles and fries well, your oil should be hot enough to cook the fish. Fry two fish at a time, for 5 minutes, then flip and cook for a further 5 minutes to make sure both sides are cooked evenly. Carefully remove them from the oil and put to one side while the other fish cook through.
Serve the fish with the fresh coriander leaves and stalks on top, and half a lime on the side.
---
Tom Hunt is author of The Natural Cook: Eating the Seasons from Root to Fruit. He founded the Forgotten Feast, a campaign working on projects throughout the UK, to revive our cooking heritage and help reduce food waste and Poco, a festival café and award-winning restaurant in Bristol and (just opened) London's Broadway Market. Click here to read his blog, Tom's Feast.
Also See: