September
Shellfish approaching their peak, native oysters back in season, a glut of summer veg and the start of autumn's crops. Tom Hunt celebrates what we can enjoy this month.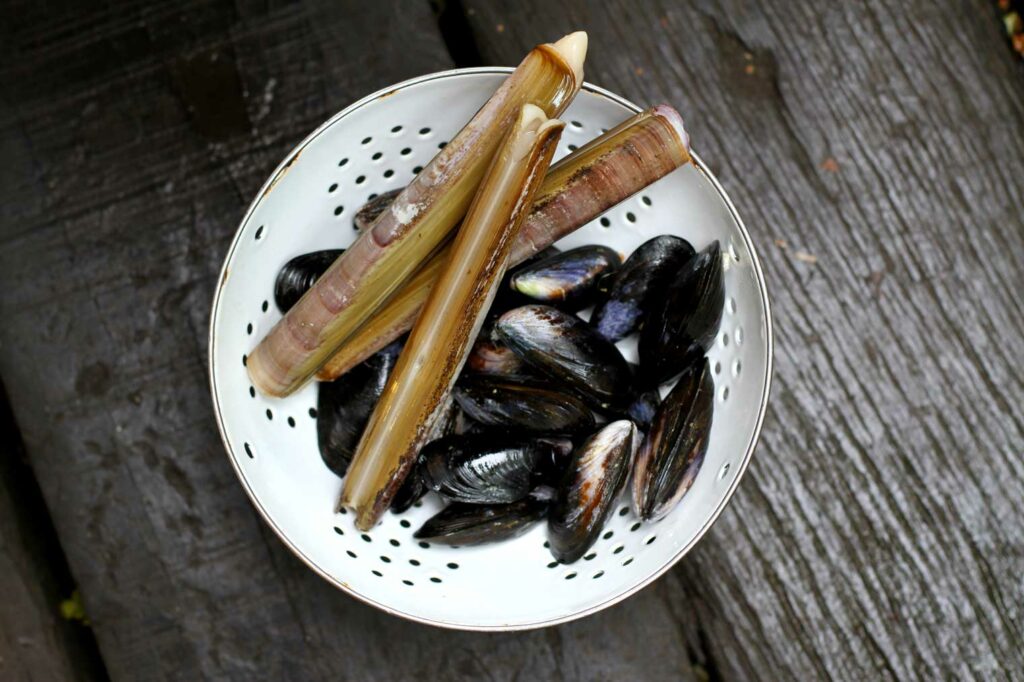 There's a great list of seasonal fruit and vegetables to choose from at this time of year. You should be able to find British summer vegetables such as courgettes, aubergines, cucumbers and even peppers, as well as the new autumn crops that are just available, such as celeriac, squash and leeks. All these vegetables sit well together served in a hearty fish stew, or roasted alongside a whole fish, like a plump bream, a fearsome gurnard or a flatty such as a megrim or Dover sole.
As these vegetables are abundant, they're also fairly priced. So if you spot a bargain, then make the most of it. There are plenty of ripe tomatoes about sitting heavy on their vines: try cooking them down, blending and passing them through a sieve to make a bouillabaisse soup. Choose a selection of your fishmonger's finest fish (bream, mussels, gurnard, crab and langoustine are a good pick) and add them to the tomato base with some sautéed onions and celery.
This is also the time to make the most of summer's gluts and to preserve the harvest for the long winter months ahead, so why not make more tomato base than you need and freeze it for later in the year.
September is a brilliant month for shellfish: as the water temperature cools oysters, cockles and mussels "plump up" as they come out of their spawning season. Mussels and oysters are both excellent options when shopping for sustainable fish. Both are mainly farmed, so there is no impact on wild stocks, plus they act as filters, actively cleaning and improving the water quality of their local ecosystem.
This month I've picked mussels as our sustainable hero. Buy rope-grown mussels, as they are farmed in a way that minimises impact on the local environment. When cooking mussels the first recipe we all think of is moules marinière (and what a stunning and moreish dish that is). But they are really versatile and take well to many different flavours and culinary influences.
Experiment with different combinations (but remember they only take minutes to cook). Try steaming them with creole flavours: a whole habanero pepper, a pinch of paprika, some diced onion, garlic and coriander. Or go Thai with grated ginger, lemongrass and garlic along with lime, chilli and coconut milk.
Or try Indian style, as I have with this month's recipe, which also makes the most of cod cheeks: the pocket of meat just below the eye, traditionally an off-cut but actually the most tender and tastiest part of the fish. This recipe also includes the option of including hand-gathered razor clams, which add a deliciously sweet and tender extra dimension to the dish.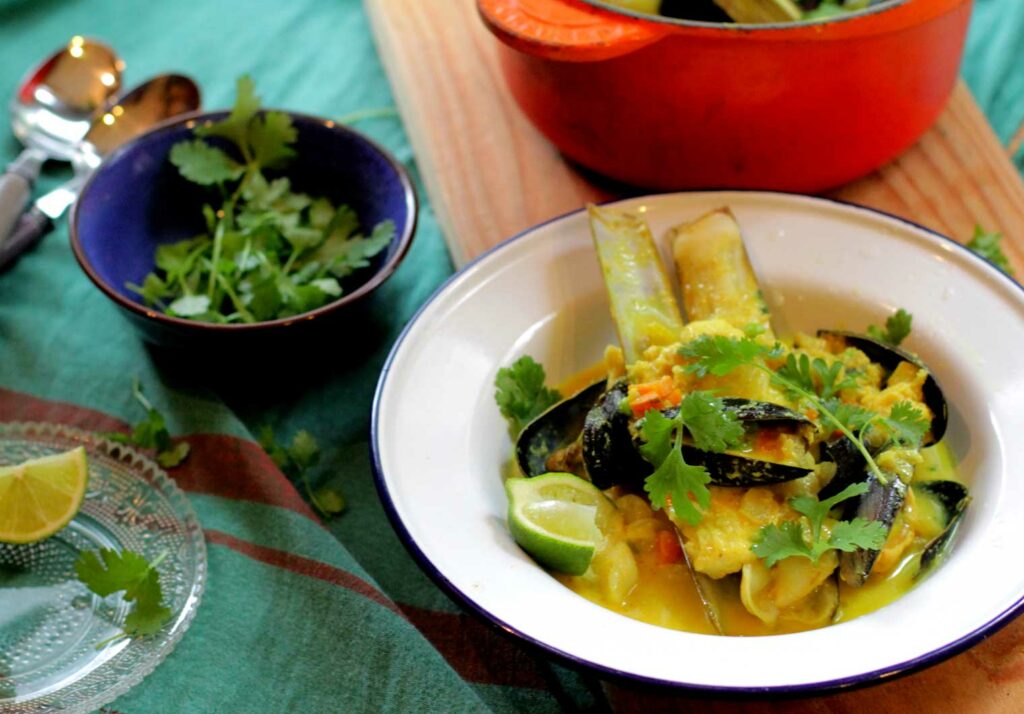 Curried mussels with cod cheeks
Mussels taste outrageously good with these aromatic Indian spices. This dish is even good served cold.
Ingredients
Serves 4 as a main course
1 small onion, finely diced
1 carrot, finely diced
½ bulb fennel, finely diced (save the other half for a salad)
2 or 3 cloves of garlic, grated
A thumb of ginger, grated
25g ghee or butter
6 sprigs coriander, leaves picked, stalks finely chopped
2 heaped tsp curry powder
Pinch turmeric
200g block of coconut milk, dissolved in 450ml of warm water
1kg mussels, cleaned
200g cod cheeks or diced firm white fish fillet such as cod or coley
6 hand-gathered razor clams (optional)
200g peas, removed from the pods (or 100g frozen peas)
1 lime, cut in quarters, to serve
Method
Important note: Mussels should be cooked live. When cleaning the mussels, make sure they are closed. If any are open, tap them against the counter: if they move and start to close, they are fine, but if they stay open, discard them. They will then open as they are cooked: if any remain closed, they should also be discarded.
First gather and prepare all of your ingredients: chop the veg, clean the mussels, remove their beards (seaweed attached to the inside of the mollusc, easily removed by a sharp tug), and rinse the razor clams, if you're including them. Shellfish takes just a minute or two to cook, so have everything in place before you start.
Sauté the onion, carrot, fennel, garlic and ginger for 5 minutes (softly, so not to burn) in ghee or butter with the coriander stalks, curry powder, turmeric and a pinch of salt.
Add the coconut milk and bring to a rapid boil. Add the mussels, cod cheeks, razor clams and peas and place the lid on top. Steam for 2 or 3 minutes or until the mussels and clams open, then remove from the heat. Serve in bowls with lime wedges and decorate with the coriander leaves.
Serve with rice, or chapati if you like.
---
Tom Hunt is author of The Natural Cook: Eating the Seasons from Root to Fruit. He founded the Forgotten Feast, a campaign working on projects throughout the UK, to revive our cooking heritage and help reduce food waste and Poco, a festival café and award-winning restaurant in Bristol and (just opened) London's Broadway Market. Click here to read his blog, Tom's Feast.
Also See: