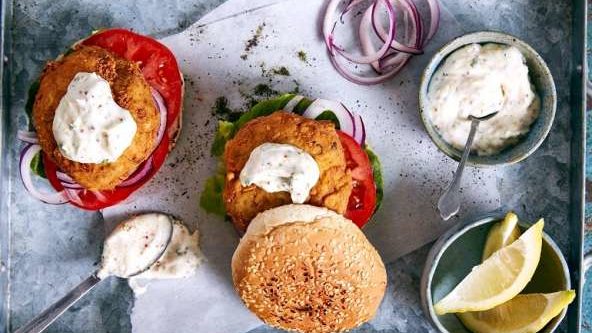 Fish burgers
Ben Bartlett
Bring street food into the home with these fish burgers and herb mayo!
Ingredients
For the burgers

500g skinless cod fillet
100g raw prawns
2 garlic cloves, crushed
2 tbsp capers, chopped
1 tsp dill, chopped
1 tsp English mustard
1 beef tomato
½ red onion, thinly sliced
4 burger buns
1 little gem lettuce
For the herb mayonnaise

2 tbsp flat leaf parsley, chopped
1 tbsp tarragon, chopped
1 large egg yolk
2 tsp white wine vinegar
1 tsp Wholegrain mustard
150ml rapeseed oil
Method
Place the fish and prawns on a plate and sprinkle with a little sea salt. Cover and refrigerate for 2 hours. This removes excess moisture and helps the burgers bind later.
Wash the fish and prawns, drain well and finely chop the fish, removing the shell from the prawns and chopping into small chunks.
In a bowl add the chopped fish, garlic, capers, dill and mustard and mix together in a food processor.
Form into 4 large burgers, cover with cling film tightly and chill for at 1 hour.
Using a large frying pan, gently fry the burgers in a little oil, alternatively, you can cook these burgers under the grill or on an open top BBQ.
For the herb mayonnaise – in a bowl, add the herbs, egg yolk, white wine vinegar and wholegrain mustard. While whisking continuously, slowly add the oil until it emulsifies and thickens.