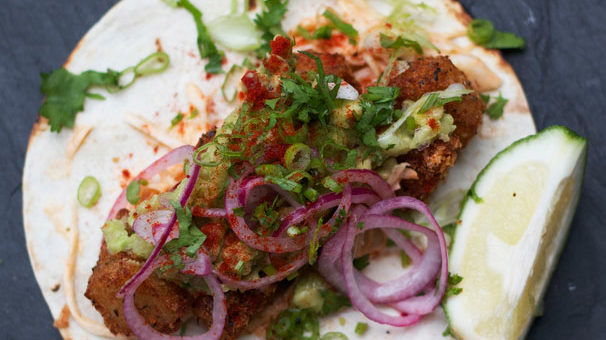 Fish taco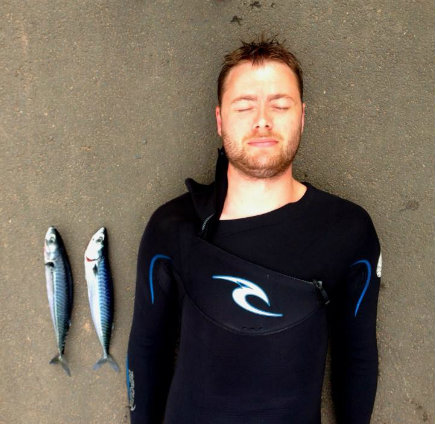 By James Bligh
The rap on fish tacos over the years is unfair, labelled as the staple diet of stinky surfers. But the great thing about tacos is they are a blank canvas for food art, with endless combinations of things to throw onto the soft, flour tortilla canvas. So this recipe is a basis for you to spring forth and create little wrapped-up wonders on tortillas. Take pride in them and develop your own signature taco.
Ingredients
Fresh white chunky fish – cod, haddock, pollack etc.
Panko breadcrumbs (or good bread crumbs)
Smoked paprika
Dried oregano
Vegetable oil for shallow frying
Lime
Spring onions
Coriander
Smoked paprika
Flour or corn tortilla wraps
For the guacamole

Avocado
Red onion, diced
Coriander, finely chopped
Cherry tomatoes, finely chopped
Red jalapeno, finely chopped
For the pickled onions

Red onions, finely sliced
Cider vinegar
Sugar
Method
Start with your guacamole. Mash your avocado and mix with finely chopped red onion, coriander, cherry tomatoes and jalapeno. Season well. Leave aside.
Next, finely slice red onion into thin rings, and pop in a bowl with enough cider vinegar to coat. Add a pinch of sugar and set aside.
Tip a good amount of breadcrumbs into a big bowl (enough to coat all your fish) and season this with smoked paprika and dried oregano. Nearly over season it, as there will be a lot left in the bowl. Chunk up your fish fillets, pop in the bowl and shake till they are evenly covered.
In a heavy-based pot, or deep fryer add enough oil to shallow fry (about 2-3cm) and bring up to a temperature that sizzles a breadcrumb. Add your fish in and fry for around a minute or until the coating is browned nicely. Remove and drain on kitchen paper and keep warm.
Scorch tortillas over an open flame till slightly charred round the edges but still soft, wrap in tin foil to keep warm. Finely slice spring onions, coriander and limes. Drain the red onions which should be nicely pickled now, then serve all the components at the table with a shaky jar of smoked paprika and let people dive in. A massive treat.