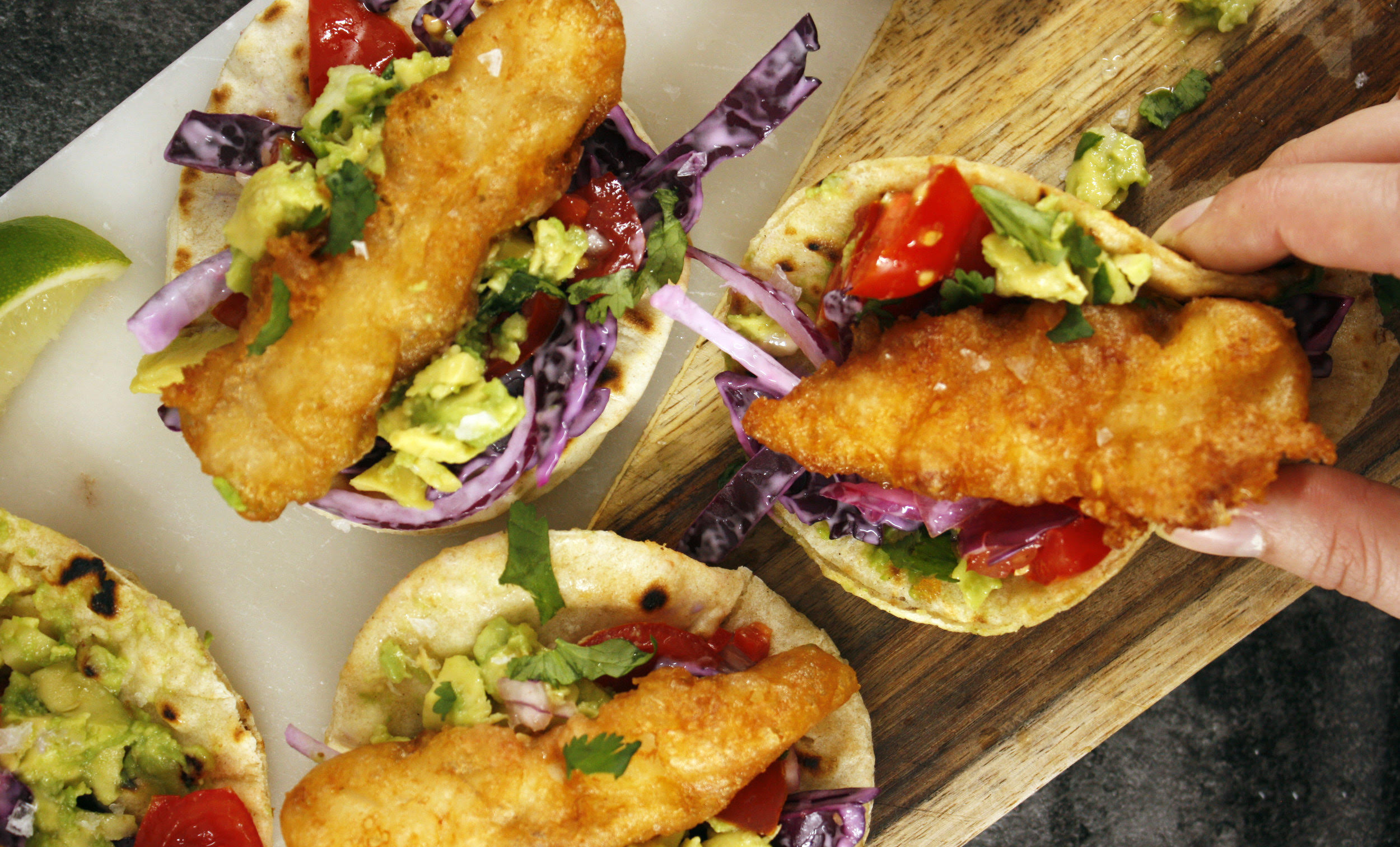 Fish tacos with avocado and pink slaw
The Gills Gals
This is one of our all time favourite dishes. Crispy fish, spicy soured cream and zingy red cabbage. It's a great one to make when guests are over as you can prep most of it beforehand, just cooking the fish once they arrive. We serve ours with roasted chilli corn. It also means they can assemble the tacos themselves!
Ingredients
For the fish:
2 firm white fish fillets

75g flour

1 tsp baking powder

150 ml beer (we used Doom Bar)
For the slaw: 
¼ Red cabbage

1/2 red onion

1 tablespoon of mayonnaise
For the tortilla (makes 4 large tortillas): 
200g self raising flour

150ml warm water

1 tbsp of olive oil

Pinch of salt
For green soured cream:
100ml soured cream

Bunch of coriander

1 green chilli

Zest of one lime
Method
For the fish:
Cut the fish into strips around 1.5 cm thick (you should be cutting across the smallest part of the fish rather than lengthways).

When all your fish is cut dip into milk and then lightly cover in flour 

Put around 1 litre of cooking oil into a saucepan and on a medium-high heat. It will be ready when you drop one piece of batter into the oil and it sizzles and browns almost immediately. 

In a separate bowl combine the flour, baking powder and 100ml beer. When thoroughly mixed dip the fish strips into the batter.

Fry the fish off in batches until golden. Remove with a slotted spoon and place onto kitchen towels.
For the tortilla: 
Combine the dry ingredients in a bowl and slowly add the water and oil

Mix until it forms a dough

Remove from the bowl and knead for around three minutes

Divide into four

Roll out each portion to as thin as you can

Heat a large frying pan as hot as you can and when the tortilla is ready place it into the pan

Wait until it bubbles up on one side and then flip and repeat (you can add a couple splashes of olive oil to the pan if you want more colour but careful they don't become too greasy or crispy).

Remove and put to one side whilst you do the others
For the slaw: 
Thinly slice the cabbage and grate the carrot into a bowl

Combine with lime juice and salt to taste
For the soured cream: 
Put all the ingredients into a blender and blend for around 20 seconds

You are done!
Put all of the ingredients on your table and assemble the taco as you like!