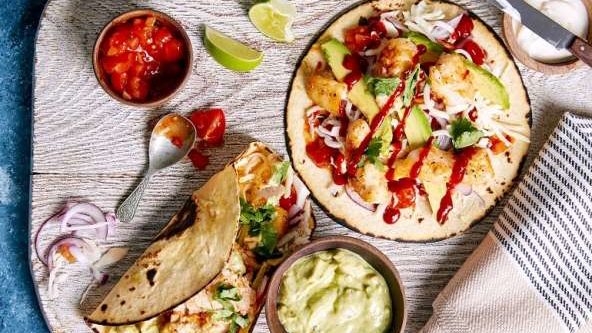 Mexican style fish tacos
By Ben Bartlett
A fish twist on a Mexican classic - vibrant and zesty, with light spices and a fiery sauce for those who like it spicy!
Ingredients
For the tacos
1 tbsp. paprika
1 tsp. garlic powder
1 tsp. dried oregano
1 tsp. cayenne pepper
1 tsp. ground cumin
650g cod fillet (alternatives: haddock, sea bream, gurnard)
1 tsp. rapeseed oil
50ml Sour cream
1 lime, cut into wedges
2 avocados, stoned and finely sliced
Handful of coriander leaves
1 red onion, finely sliced
½ white cabbage, finely shredded
50ml Hot chilli sauce (optional)
12 corn tortillas
For the salsa
250g cherry tomatoes
1 red onion, finely chopped
1 garlic clove, finely chopped
Zest and juice of 1 lime
1 tbsp. olive oil
Sea salt and ground black pepper
Method
Stir together the tomatoes, onion, garlic, lime, oil in a bowl and season. Cover and store in the fridge
In another bowl mix the spices and sprinkle over the fish. Store in a zip-lock bag for 30 minutes
Grill the fish on a medium heat for 5 minutes per side, remove from the heat and flake into a bowl
Warm the tortillas and assemble with avocado, salsa, cabbage, fish, sour cream, coriander, chilli sauce and lime wedges.