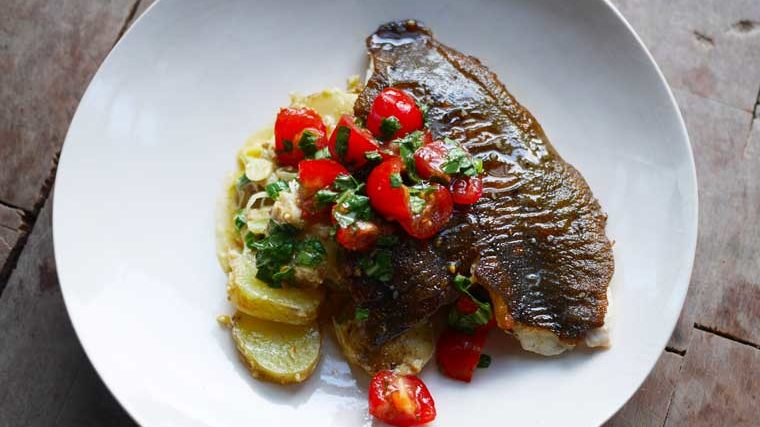 Catch of the day with crab, new potatoes & sauce vierge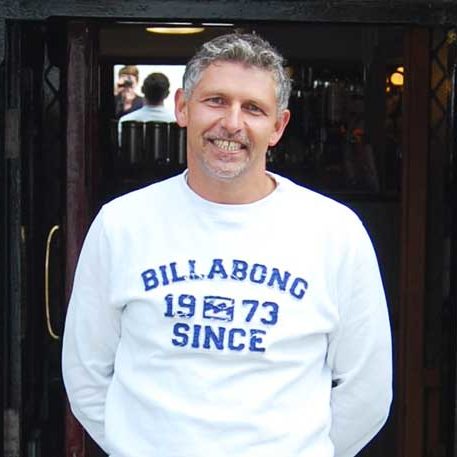 By Ben Tunnicliffe
This really is a very flexible dish; it's on the menu frequently at the pub in the summer months. I change the main element according to what's on offer from the fish market. It will work with so many different species, from the less expensive such as hake, jumbo plaice fillet, cod, pollack and ray through to the prime species like John Dory, red mullet, sea bass, brill, monkfish and turbot – whatever takes your fancy. My only caveat would be to suggest the fish be filleted.
Ingredients
Per person
For the fish
Approx 150g fish fillet
25g white crabmeat
15g brown crabmeat
50g crème fraiche
2 spring onions, sliced
3 plum-sized cooked new potatoes, sliced approx ¼ inch thick
Salt & pepper
For the sauce vierge
1 clove roasted garlic
1 tbsp lemon juice
5 or 6 sweet ripe cherry tomatoes
Salt & pepper
4 tbsp good extra virgin olive oil
A few basil leaves, torn
Method
First, make the sauce vierge. Peel and crush the garlic to a paste with the lemon juice and some seasoning, mix in the olive oil and basil, quarter the cherry tomatoes, add and mix thoroughly, taste and adjust seasoning if necessary. This dressing will improve if allowed to sit for 30 minutes or so, but you can make it up to a day ahead. Keep it cool, but let it come back to room temperature before serving to get the best flavour.
When you're ready to eat, heat a non-stick frying pan large enough to hold however many portions you are cooking. If you're cooking for more than 4, use more than one pan. When the pan is hot add a little vegetable oil, and lay the fish skin side down. If the fish curls, apply a little gentle pressure to the flesh with a spatula for a few seconds to keep it flat.
Control the heat so that the skin colours gently to golden brown and doesn't burn. I tend to allow the fish to do most of its cooking on the skin to protect the flesh. You will see the flesh change colour as the fish cooks through. When it is roughly 70% cooked, flip it over and allow to cook for a little while longer. Don't overdo it – I tend to undercook fish as the residual heat from the cooking will finish it as it is plated up and making its way to the table. That way you'll keep the fish moist.
While the fish is cooking, heat through the creme fraiche with the sliced new potatoes and some seasoning. Add the sliced spring onions and the crabmeat, taste for seasoning and adjust if necessary. When hot spoon into bowls or on to plates, put your piece of cooked fish on top and dress with the sauce vierge.